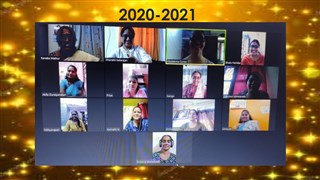 The most amazing teacher's day celebration. We definitely did not expect it to be the most amazing, with a virtual celebration. However, this year the celebration was one of the best, emotional and touching times of all our lives. All the teachers dressed up, kept their snacks ready and joined the Teacher's day virtual celebration meeting.
It began with a special welcome to all the teachers to tell them how Ekadaksha cherishes each and every one of them. Being a teacher is a great feeling and we should always feel proud of ourselves. A teacher of children with special needs is indeed extremely lucky - We have the privilege of teaching, inspring and making a difference in the lives of the children as well as their families plus we have the privilege of learning every single day. We have the privilege of giving and getting back the best. We have the privilege of developing others and ourselves. What more can one ask for in life.
The teacher's then got the best that they deserve - loving and kind words from the parents of the children of their classes. Every parent had sent audios, videos or written messages for their respective teachers. Each message was filled with gratitude and love for the teacher, it was so overwhelming. These touching words will remain with each teacher forever. It is the best gift for us when a child and its parents trust us and work with us. Thankyou to all the parents for their messages. This day was AWESOME..
Here are a few quotes sent by the parents:
Thankyou for being a teacher as a well as a mother for my child.
The most important aspect to be in this profession is to be a good Human being. You have been able to understand my child because you are a Good Human Being with an open mindset to learning from him.
We are so happy that our child is in safe hands.
During this time of the pandemic, we parents have also become your student.
You are so commited and sincere.
It is because of your guidance that my child has reached where he is today.
I admire your enthusiasm and energy.
You have understood my child's talents and are trying to bring him to great heights. Thankyou.
You explain things in perfect detail. It has helped us a lot. Thankyou.
Thankyou for your support and guidance for my child.
You are very loving, caring, patient and understanding.
All the hard work you put in for my child will never go unnoticed.
My child is always ready to attend your class and always looks forward to your class.
Words fall short because there can never be a perfect word to say 'Thankyou' to you.
Your name will be written in every improvement of my child.
We believe that a teacher is the most important person that our child interacts with outside home. We are truly blessed to have you as a teacher.
You are a 'Super queen'.
And these are just bits and pieces taken from each message. So, one can imagine how these words have touched our hearts. Dear Parents, at Ekadaksha, you can always be sure that we will always be there to support you and your child. Pandemic or no pandemic, rain or sunshine, Ekadaksha is committed to providing you the best for the wholesome development of your child.
The finale of all the emotions - A throwback video of Teacher's day celebrations from 2010 till today. A tribute to all Teacher's who have been and are still a part of Ekadaksha. Click here for a throwback teacher's day video.
Wishing all our Ekadaksha Teachers as well as every single Teacher out there - HAPPY TEACHER'S DAY!!!