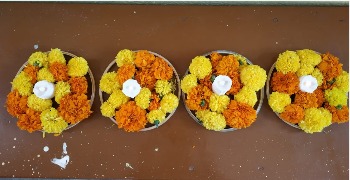 Onam, the festival of Kerala (India), with flower decorations, boat races and Onam sadhya (An elaborate spread of the cuisine of Kerala) was celebrated at Ekadaksha. It was a fun time where the children competed in two different games:
-Tug of war (A game of power): Two groups of children were made to face eachother and hold a long cloth. A line was drawn in the center as the boundary. When the command was given and the whistle was blown, they had to pull with all their might. The team that pulled the other over the boundary was the winner. This game made us all laugh like crazy. Some children pulled and pulled while others allowed themselves to be pulled. Some just held on, while others let go of the cloth. They had one thing in common though - Excitement:-)
-The Poo kolam race (A race of flowers): This relay race again involved to teams who had to pick flowers and make a flower decoration while taking turns with their team members. The children were fascinated with the flowers and enjoyed arranging the design. Well, some of them loved plucking at the petals as well:-)..
A delicacy of Kerala, banana chips, was served to one and all. Click here to see the children in action.