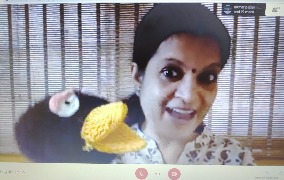 Ekadaksha's first Co-surricular activity session online - A fun Story session with Ms. Janaki Sabesh - Ghilli Amma, Actor, Story teller, Author, Trainer, Voice over artist, Faculty - Chennai Business school - All to her credit. A very creative and innovative person, stories have always been her passion which is why she started an initiative to take stories to every person of every age group just to give them an experience they can never forget. Click here to know more about this wonderful initiative called Golpo tales.
She uses puppets, narration, drama, music and movement to give the best stories to people. It gets you engaged, provides learning and fun. In today's session, children and teachers participated. It is definitely not easy to tell a story online on a meeting app. However, Ms. Janaki nailed it. We were amazed to see the way the children responded - Listening, smiling and even clapping. It was a lovely experience for sure. The stories revolved around animals in the forest. Different tales about different animals were narrated with wonderful expressions. At the end Ostro, the Ostrich, who has a stammering issue told his story and sang a happy happy song. All the teachers and children joined in as well and indeed it was a happy happy time. Of course, we aren't going to tell you the story here. For that you will have to attend one of Ms. Janaki's story times:-)
Thankyou Ms. Janaki for bringing to us this beautiful world of stories.
Click here to see the fun story and the expressions of our children.