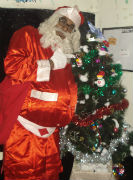 Silver bells, silver bells. It's Christmas time in the city. Ekadaksha too, was filled with the Christmas spirit and joy.
Christmas was celebrated with Santa claus. He came with his loud jovial laugh and big tummy and made every child at the center very happy. He danced with them, gave them presents and gave them a picture of a lovely christmas tree to colour. A cake was cut and the children ate snacks too.
This year, not only the children receive gifts, their parents also exchanged gifts among themselves.
A photo album of our Christmas celebrations 2012 can be found here.