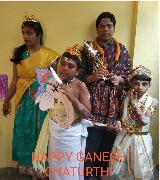 Kozhakattais, Laddoos, Sundal and yummy treats - It is all His favourite food. Our beloved and happy Lord Ganesha celebrates His birthday at Ekadaksha. This Lord captures the heart of one and all with his happy and relaxed attitude. He is called Ganesha, Vinayaka as well as Ganapathi bappa. He spreads prosperity and happiness to all households. Apart from decorating the clay Ganesha, the children dressed up like His family - His father (Shivan), His mother (Parvathi), His brother (Karthikeyan) and of course, the Lord himself. The teachers dressed them in attire which showed them in this light beautifully. Shivani of the school the School readiness programme, introduced the characters with the help of her Teacher, Sowmya. The children who were chosen to decorate the Lord with flowers, kumkum, garlands and his umbrella did so with so much of devotion as well as curiosity in their heart.
What is Ganesh Chathurthi without his favourite food mentioned above - Kozhakattais and Laddoos were distributed and it was indeed a super yum treat for the children. At the end of the day, we listened to Bhajans in praise of Lord Ganesha.
This celebration of Lord Ganesha was planned by the Teachers - Saraswathi and Sumangali. Congratulations on a wonderful celebration...