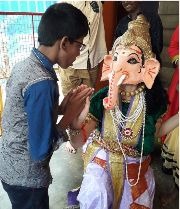 Lord Ganesha is one of the most favourite God and a Friend to one and all. On his birthday, people buy clay idols of Him, decorate it and pray to him. On this day, Lord Ganesha comes on to Planet Earth and bestows people with his blessings. He loves to eat food and laddoos are his favourite.
The children at Ekadaksha made a lot of artwork of Ganesha from different materials - leaves, grains etc.The Puja was conducted for Lord Ganesha wherein the children offered bananas and laddoos. After the Aarthi, the children were given a wonderful surprise - The arrival of Lord Ganesha at the Ekadaksha Premises.He was welcomed with joy and excitement. Some of the children shied away or were a little scared, however once they saw how friendly the Lord was, they came close to him. Vishal of the Express group and Shashini of the School readiness group were the most excited and kept doing a namste pose for Ganesha. Ganeshji took photos with all the children. He then sang and danced with them with joy. It was then time for Him to leave. The children waved goodbye with happiness even though they did not want Him to go.
The Laddoo prasadam was passed around every class. After all the children enjoyed this prasadam, the game "FEEDING GANESHA LADDOOS" was played. The children from each team had to throw ball laddoos into a picture of Ganesha's mouth. All the children tried to aim perfectly making sure Ganesha had his share:-)
Click here to view the lovely time celebrating Lord Ganesha's birthday.