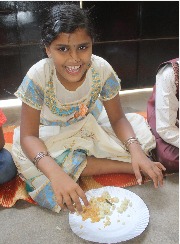 The festival of Pongal is the harvest festival in India. It is an occasion to express thanks and gratitude to Mother Nature, the Sun God and the Farmers. It is celebrated all over India in different ways.At Ekadaksha we celebrated it the Tamilnadu way. It is a four day festival which marks the beginning of the Tamil calendar month 'Thai' which brings in peace, prosperity, happiness and prayers for good harvests during the year.
Ekadaksha was transformed into a 'Native Village' with decorations of Pongal scenes - A pot to prepare Pongal, Sugarcanes, kolams and a lamp. All artwork was done by the children of each class. The whole school was divided into groups related to Pongal - Sooriyan (Sun), Elai (Leaves), Pongal Paanai (Pongal pot), Kolam (Colourful designs).
The celebration began with the lighting of the lamp followed by a divine song sung by Jyotsna, the daughter of one of the teachers. The students of the School Pull out programme delivered a speech on the significance of each of the four days of Pongal - Bhogi, Thai, Maattu and Kaanum Pongal. Then the fun began with the pongal groups playing traditional games. The children played a customised block game, wherein they had to carry blocks from one end to the other. The 'Sooriyan' team won the game and were felicitated with a Poonadai (Garland). The teachers took part in a race wherein they first had to run holding a lemon and spoon with their mouths, and on reaching the end point had to thread a needle as quick as possible. The winner was felicitated with the Poonadai.
After so much of activity it was time for the most yummiest time of the day - tempting Venn pongal and Chakkarai pongal. This was served in the traditional way in a 'pandhi' where the children were seated neatly in a row on mats. Teachers served them with Pongal. This form of serving gives a sense of togetherness, satisfaction and happiness. Once the enjoyment of snacks was over, native pongal songs were played for the children. Click here to see Pongal 'o' pongal at Ekadaksha.
HAPPY PONGAL TO EVERYONE!!!