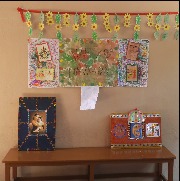 One of the greatest festivals of India is Navratri. On this occasion, it is believed that good will win over evil. It is celebrated differently in different parts of India. It is also called Dussehra. We had a peek into the Dussehra celebrations in India - North, South, East, West. Ram and Laxman compered and explained the celebrations in each part of India.
NORTH INDIA - "We do prayer. We give gifts. We sing Bhajans." - Ram. The children of the school readiness group sang Bhajans of Lord Rama to celebrate his victory over Ravana, They also played instruments while doing so.
SOUTH INDIA - "We keep Golu. We eat sundal. We sing slokams." - Laxman. The big boys of the Experience group displayed their products in the Golu. They then sang a sloka for their teachers.
WEST INDIA - "We do pooja. We eat sweets. We do garba dance." - Ram. The little ones of the Explore group displayed a pot and dandia they had decorated. After this, they performed the garba dance which is famous in the state of Gujarat.
EAST INDIA - "We do durga pooja. We do aarthi. We play drums." - Laxman. The Express group children showed a picture of Durga Maa. and worshipped Her. They did the aarthi and made music on the drums.
The children and teachers enjoyed some yummy Kesari, after which they danced, danced, danced. The dandiya was one of the highlights of the day with all the children participating and getting involved. Following the steps using the dandiya sticks is a skill which the children learnt in a week. They danced to the tunes of the dandiya music and the instructions of "up and down, up and down, up and down, and tap tap tap".