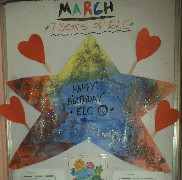 Its been 7 years since ELC was inaugurated and the journey has been wonderful.
This year, the Ekadaksha Family Circus performed and entertained. There were little cute puppies,amazing animals, funny clowns, a ringmaster and a food vendor. There was something special for each of these performers.
The little puppies were introduced with woofs and a wag of their tails. They then marched in a circle and stood on different pictures. A gift was awaiting the puppy who stood on the picture of a 'bike'. The amazing animals performed animal actions and ring acts. After this, there was the popcorn race. They enjoyed transferring popcorn as well as eating some along the way:-) The funny clowns had their makeup on and just needed there clown costumes. They performed a dress up race with a cap, big big shirt and big big shoes. And then the clowns were ready to be funny...
The ring master said: "I am a ringmaster. This is my hat, this is my ring, turn around and look at me!!!"
The food vendor said: "Hot cross buns, hot cross buns, 1rupee, 2rupees, hot cross buns!!!"
Finally, the Circus parade took place with the children marching around the Center to Circus music...And of course no celebration is complete without cake, snacks and dance...Watch the ELC Family Circus here.
Thankyou to everyone who has been a part of this family, who has helped us, motivated us, guided us and supported us. Ekadaksha is what it is because of hard work and blessings of all those involved. Thankyou...
Our children wrote testimonials for us - Thankyou Aaliyah and Gautham for your loving and kind words.