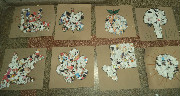 Cardboards, old magazines, newspapers - All this was turned into beautiful artwork on 30th January 2016 at Ekadaksha. This creativity of Mrs Asha Mehta and Mrs.Prerana gave the children a chance to explore materials and colours. After an introduction and chat with the facilitator, the children were introduced to the activities.
The first art was a collage made out of waste paper from old magazines. The children enjoyed tearing paper, spreading the glue and sticking the bits of paper. This activity taught the children to create something lovely and neat from a mess.
The next activity was a coaster made of of old newspapers which were weaved together and finally painted in bright colours. The children did a great job of folding strips of newspaper which was used to make one big coaster. Click here for pictures.