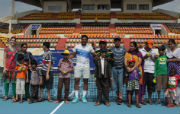 Our children became sporty for a day. They were taken to the biggest international tennis tournament in Chennai - The Aircel Chennai Open 2014.
The children watched some of the tennis players practicing on the Center court. All the children sat quietly and watched the game. One of them quietly commented on the game and noticed when the ball was hit out too.
Once the players finished their practice, photos were taken with players like Leander Paes, Frederik Nielson and Johan Brunstrom. Signed tennis balls were given to the children. Click here to seee the Tennis fun at The Chennai open 2014.