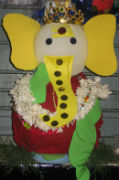 Jai Ganesh! Jai Ganesh! Jai Ganesh deva!!!
Ganesh Chathurthi, birthday of Lord Ganesha, was celebrated at Ekadaksha Learning Center. Some children helped to make a cute Bal Ganesh (Ganesha as a child) idol and some children coloured, painted and decorated pictures of Lord Ganesha.
The celebration included a puja, bhajans and enacting a story about Lord Ganesha. One of the teachers dressed up as Bal Ganesha and danced with the children on Ganesha songs.
A photo album of the Ganesh Chathurthi celebrations can be found here.