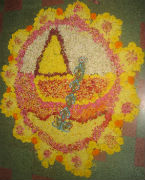 Flowers, kolam, boat races, dance, King Mahabali - all this signifies the Onam festival in Kerala.
At Ekadaksha Learning Center, the children experienced just that. The children helped to decorate the poo kolam. A picture of a boat was the pattern for the poo kolam. The children listened to the story of King Mahabali. One of our teachers dressed up as the King, blessed the children and gave them chocolates. The children were very excited. Some children recognised their teacher and had a good laugh as well. The celebrations ended with an Onam dance.
A photo album of the Onam celebrations of the morning group can be seen here.
A photo album of Onam celebrations of the remedial group can be seen here.