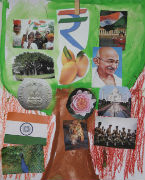 Ekadaksha Learning Center was filled with patriotism on Independence day of India which is celebrated on the 15th of August every year. The Children did a march past and hoisted the national flag. They sang the national anthem and saluted the flag.
Games were played which were based on the national symbols. The children enjoyed these games and also learnt more about our country.
Jai Hind!!!
A photo album of the independence day celebrations can be seen here.
A photo album of independence day celebrations with the remedial children can be seen here.