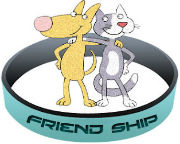 Friends are very important in life. It is important to teach our children the value of friendship. The important thing about friendship is to accept that your friend is different from you and learn to respect that. Friendship is beyond religion, geographical boundaries and abilities of a person. Every child deserves to have friends. Let children enjoy the gift of friendship and value their friends.
Ekadaksha believes in the above and celebrated 'Friendship day'. The children made and tied friendship bands for eachother. They played games and danced together. This day was all about being with their friends and having fun. Check out the photo album here.
The photo album for the remedial children's celebration is here.