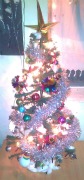 Merry Christmas!!!
The Christmas celebrations started with decorating the tree and the classes. Children chose what they wanted to put on the tree and made a lot of Christmas craft - trees, bells and stars.
Jingle bells! Jingle bells! Jingle all the way!!!
Santa claus came singing and dancing to celebrate christmas at Ekadaksha Learning Center. The children were excited as well as scared of Santa. However, all of them were ready to receive their gifts. After Santa left, we danced and sang Christmas songs.Click here for photos of a wonderful Christmas.