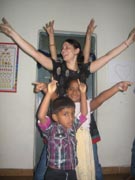 Ekadaksha celebrated its first anniversary on the 4th of March 2011.
It was party time for the children with games, dance and music. A get together was organised for the parents. They were given the opportunity to share personal experiences about their children and life.
The grand finale was an exhibition of products made by the children at Ekadaksha Learning Center. There were bookmarks and notepads for the book worms, fridge magnets and table mats for the cooks, car hangers for the men, beautiful jewellery for the women and a lot more....It was a grand success.
A photo album of our First Anniversary Celebrations can be viewed here.