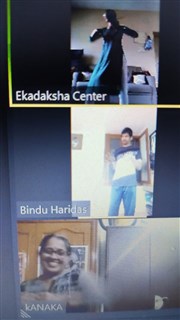 Friendship day, a special day to celebrate the bond of friendship. Of course, every day friends are important, everyday we love them and care for them. However, on this day we celebrate it. We make a huge party out of it. We realise the importance of our friends. Friends may be Hi-bye friends, friends for fun, friends for work, firends who are our soulmates and so many more... At the end of the day, each one of us needs every kind of FRIEND.
Usually Ekadaksha celebrates every friendship day with fun at the Center. The children have a special bond among eachother, which is lovely to see. However, this time all our dear children are unable to meet their friends and classmates whom they used to see everyday. Most of them love being around eachother and miss being at the Center. So, we at Ekadaksha thought - " Why don't we celebrate FRIENDSHIP DAY virtually? It may be different, but the children can see eachother and have some fun." And, we planned a Dance session for parents and their children - A time fo fun, to let loose and enjoy. In this time fo the lockdown, this is very much needed - to forget about the stress and tension happening on the outside.
Well, well, well. It was an amazing session. The fun , the energy was amazing. Fathers, Mothers, children and teachers alike, everyone had a blast. Some danced in a trance, some watched in a trance. It was super duper fun.
The dance began with everyone following steps of the main dancer. The children have learnt these steps during dance time at school. This was followed by a guided pair dance between parents and children. A bond of love and happiness because for our children, their parents have to be their friends too. Finally, it was let loose time - Free dance in which everyone just ' Let their hair down' and 'Danced some super moves'. ALl the songs played were familiar to the children and we are sure it gave them a feeling of being back at school with their friends.
Thankyou children, parents and teachers for making this event a beautiful and memorable one. Click here for pictures of the virtual friendship day celebration.