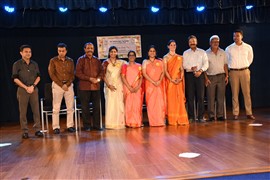 Ekadaksha conducted it's Annual day on 29th February 2020 at Rasika Ranjani Sabha, Mylapore, Chennai. This was the first show in which children performed on stage for an audience. The theme of this event was Independence and Individualty - main aspects that Ekadaksha strives to work towards. The show intended to showcase that all our children can be independent and are unique in their own ways. It meant to spread awareness among all that we as a team can work towards the best needs for the children.
Dr. R. Nataraj IPS DGP (Retd.), MLA Mylapore was the Chief Guest and presented awards to the children. In his speech he gave information and details of various services provided for people with special needs in the city. He appreciated the efforts gone into the excellent conduct of a one of a kind Fashion show. He also added that it was a matter of pride for four women to come together and take on the task of teaching children with special needs. He also presented awards to people who have helped Ekadaksha in various ways.
Mr. T.N.Manoharan,Chairman Canara Bank and Padma Shri Awardee, was the Guest of honour and presented awards to the teachers, staff and volunteers of Ekadaksha. His speech was a motivation and created a positive impact on all present for the programme. He recited a saying - "Birth and Death were not in our control, but Life's glory is in our control. " He mentioned that Ekadaksha is doing its best that this glory can be achieved by the children and their parents. He also believed that Ekadaksha is working to make wonders happen.
Mr. Chandran, an important person to Ekadaksha, presented the 'Overall Excellence Award' to two of Ekadaksha's former students, V.Gautham and S.Saketh Raman. Both these students are now doing extremely well in their respective schools, academically and in co curricular activities. Mr. Chandran is a parent of Ekadaksha's cherished student, Tharun, who passed away on 16th January 2018. Mr. Chandran, as well as Gautham's father and Saketh's father appreciated the efforts of the Team and expressed their happiness.
After welcoming all the guests, parents, families of the staff and the visitors of the day, a video about 'A day at Ekadaksha' was played which showed the routine of the day as well as all activities done at the Center. The video also showed how the children were doing all activities independently or with minimum help. This was followed by the Annual Report stating all workshops and services provided during the year 2019-2020 as well a gist of how Ekadaksha Learning Center has grown over ten years.
The main event, the one that everyone was looking forward to - THE INNOVATIVE FASHION SHOW by the children to celebrate INDEPENDENCE AND INDIVIDUALITY. Ekadaksha works towards this vision - To spread awareness that people with special needs can be independent and they are unique individuals of their own accord. The children walked the ramp along with their teachers in attire designed by the National Institute of Fashion Technology, Batch 2017-2021, Knitwear Design Department. The students not only designed the clothes to look smart but to also be functional. The term functional would refer to various aspects:
1. The children being able to wear them independently.
2. Being simple and easy to wear. Eg: Using Velcro instead of buttons, pants which can be work either way etc.
3. Easy movement.
4.. Catering to their sensory needs or distractions. Eg: Soft materials, avoiding too many frills , front pockets with specific materials to keep their hands etc.
The students also provided us with music and ideas about formations in a fashion show. We thank them for making this dream of our come true - To see our children looking amazing and walking with the utmost confidence:-)
It was then time to give away the medals and awards to the children, teachers, volunteers and helpers. Ekadaksha also honoured people who have helped and supported Ekadaksha at all times: Mr. Karthik-available at any time to take care and maintain the Ekadaksha Building, Mr. Rajesh - Always ready to help with techincal computer issues, Mrs.Malvika - A wonderful graphic designer of all our newsletter and invites, Mrs. Rathna, the Master of Ceremony for the day. Ekadaksha also honoured Mr. Suresh, the Automan of some of our children and Mr. Balaji, a car driver of one of our staff who helps to take our children for outings, for their humble services.
Mr. Hiten Joshi, Trustee, Ekadaksha Trust, spoke on behalf of the the other Trustees, Mr. Seshadri, Mr. Bharath Sharma and Mr. Rajeev Nair. This was followed by the wonderful speeches of our Chief guest and Guest of honour.
The show came to an end with extreme positivity, happiness and an aura which captured the hearts of everyone.
Click here to view pictures of this amazing event and enjoy.