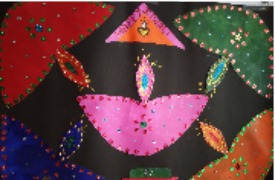 Diwali is one of the most important celebrations in India. It is a festive time throughout the country with colours, lights, flowers and pretty decorations. This year the children displayed all the aspects of Diwali. Each class made different works of art and craft which they showed to everyone on the day of Diwali.
'Colours' - Diwali is a splash of colours with people wearing vibrant dresses and people decorating their homes beautifully. 'Rangolis' and 'Kolams' are a common sight during Diwali. This creative art gives a warm welcome into each and every household. Diwali is the 'Festival of light' and our prevocational children made a lovely Diya stand to light up our lives. No festival is complete without some pretty flowers which were spread all around.
The school readiness group also gave us a lesson on savingand protecting our environment. They advised everyone to save rain water, save trees, walk more to avoid pollution from vehicles, recycle waste and say 'NO' to crackers...
HAPPY DIWALI TO EVERYONE. May this Diwali bring the most amazing experiences in your lives.
Our Diwali Dhamaka click here.