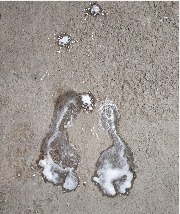 Lord Krishna's birthday was celebrated at Ekadaksha with one of our children dressed up as a cute little Krishna. It indeed felt like an avatar of Lord Krishna had stepped into Ekadaksha. Lord Krishna's childhood days are of great significance as the naughty little boy who loved Makhan (pure butter). Childhood days are those when we have the freedom - to be naughty, to explore and to enjoy without any apprehensions.
This little avatar at Ekadaksha gave us this lesson of childhood. He also seemed to enjoy the butter and kept looking for the Makhan box. He was made to sit in front of the lovely artwork and Puja table. Teachers and children decorated him with flowers, necklaces and kumkum, after which they fed him yummy Makhan.
Little Krishna then dipped his little feet into a pool of milk and blessed the Center with his little footsteps:-)Krishna Bhajans then gave a wonderful vibe all around.