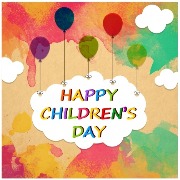 Children's day, also known as 'Bal Divas' is celebrated all over India on 14th November every year, It is the birthday of Pandit Jawharlal Nehru, the first Primeminister of Independent India. Nehruji loved children, which is why this day was chosen to celebrate childhood as well as increase awareness about the rights and education of children.
The smile of a child can light up the day. It gives a feeling of Heaven on Earth. At Ekadaksha, all our children are a different kind of flower - Together they have made this place a beautiful garden. To celebrate this beauty, a 'Fashion show' was conducted. Children and teachers dressed in their best trendy attire and walked the ramp with style. Each child walked individually on the makeshift ramp, posing and smiling along the way. The fun and excitement this day was evident with the sound of clapping and cheering by the audience of teachers and their classmates.
This was not all, it was bubble time. The children were fascinated by the bubbles. They enjoyed chasing the bubbles floating in the air. Some of then even tried blowing the bubbles by themselves. It was all innoncence and happiness at this point of time. Our only wish is to protect this innocence and spread this happiness to our children while they make a life for themselves. Let us respect our childen, show them the right path and make this place a lovely safe place.
Click here to see our fashionable children enjoying themselves.
HAPPY CHILDREN'S DAY...