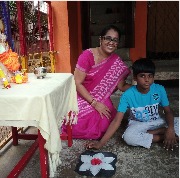 Krishna Jayanthi is the celebration of the birthday of Lord Krishna. Lord Krishna is the symbol of love, compassion and tenderness. He is associated with being blue or black in colour with a flute, feather and gopikas around him. As a child Krishna is depicted as a mischievous boy as well as a protector of Vrindavan. He is also known as Makhan chor (Butter thief) because of his love for white butter. People celebrate his birthday by mimicking the legends of Rasa lila (Dance with the gopikas) and by making human pyramids to break pots of white butter. It is a festival of love, joy and care.
At Ekadaksha, tradition, fun and learning was incorporated during this celebration. The children and teachers played the game 'HOUSIE-HOUSIE". In this game each person is given a card with numbers on it. A number is called out by the facilitator of the game. Anyone who has the number strikes it out on his/her card. The person who is first to finish all the numbers on the card is the winner. This game was modified at Ekadaksha wherein all teams had around 5-6 children. The teams sat in lines and each child was given one number. As the facilitator called out the number, the child with the respective number shifted his/her place to winning side. Thus, as each team's child shifted places, the winners were decided. The prizes won by each team was used to decorate the idol of Lord Krishna. Then, of course, the aarti was done and the children received blessings of our lovely Lord Krishna.
Snacks was a bit of white butter and seedai (A savoury snack). No celebration is complete without music. The day ended with peppy bhajans praising our dear Lord. Thus, the Center was filled with the love and energy of Lord Krishna.