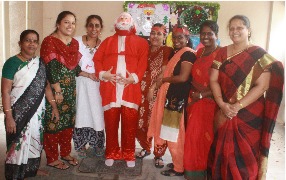 Christmas, the birth of Lord Jesus, is celebrated with a 'Joy to the world'. Its a time to spread love, the spirit of giving, generousity and goodness. This is how it was done at Ekadaksha.
MORNING SCHOOL:
Deck the halls with boughs of holly...Falalalalalalala!!!At Ekadaksha the feeling of Christmas started from the 1st of December. All teachers and children got busy with decorating their classrooms. Creativity, colour and christmas songs filled the Center with cheer and joy. The children were taken on a tour to each class to experience different themes of Christmas. The Experience group had a beautiful manger depicting the birth of Christ. The children painted parts of the manger and helped the teacher to set it up. The Express group depicted christmas with a snow theme. They made snowmen out of socks and cotton, trees with handprint and crushed paper and a beautiful coloured Santa claus. The Explore group decorated the class with Christmas trees, photo reindeers and a nativity scene as well. The trees were painted and decorated with stickers, while the nativity scene was done by sorting different materials in a tray. The Pull out and school readiness programme made different tree decorations. They used hand prints, different forms of painting, sticking and colourings to make these beautiful ornaments.
Well, this is just the beginning. There's a lot more to go-The day, The Christmas day-Santa, fun, laughter, gifts, snacks and so much more....
"Santa claus is coming to town". Indeed, ELC became Santa's town. Santa Claus dressed in his usual red and white attire, came in with jingling bells and gifts. He entered to see the children dressed as snow children, reindeers, santa claus and elves. The children got excited when 'Santa' arrived. Some of them were a little scared at first, but Santa had his agenda. He would not let any child go without a hug or a handshake. He sang, danced and took photos with the children. Two of the little elves from the Pull out programme made a speech about Christmas, for which Santa was so proud. He gave all the good little and big children gifts. Then he was off to another special place. He will be back again next year:-)
Now, do you think this is all? It's christmas, so there has to be snacks and there has to be music. After Santa left, the children were hungry and ate up some yummy snacks. And then the whole of Ekadaksha danced to Christmas songs and carols.
A very merry Christmas at Ekadaksha-Explore, Express, Experience, Pull out and school readiness programme.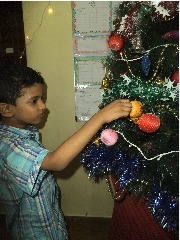 REMEDIAL:
The children who come for remedial classes also had a celebration of Christmas. They played 'Hit the target', a game in which they have to hit a tower of cups with a ball. After the game, they ate snacks and listened to Christmas songs and carols.
A very merry christmas for the remedial children.
Indeed, at Ekadaksha Learning Center the air had a feeling of Christmas. It filled all our hearts with joy and it was a wonderful treat to end a wonderful year. MERRY CHRISTMAS EVERYONE AND A HAPPY NEW YEAR 2018.