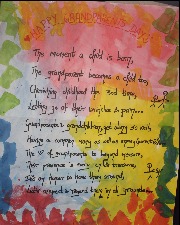 Grandparents are God's gift to children. They are the happiest individuals when they spend time with their grandchildren. The bond between Grandparents and Grandchildren is special because, "Grandparents see their own reflection in these beautiful children. It brings back memories of their own childhood." Ignoring age and wrinkles, forgetting their pain and health, they devote their lives to bring happiness in their Grandchild's life. It is a true blessing for children to grow up with their Grandparents around. It is important to acknowledge them. They deserve great respect and appreciation for the values they bring into our lives.
Grandparents Day was celebrated Ekadaksha to honour the Grandparents of the children who are part of the Center. The children of each class gave a performance. The Explore group showed their Grandparents about their way of communication and also performed a cute dance. The Express group performed the concept of In and out. The Experience group showed their culinary skills by identifying vessels. The children of the pull out programme spoke about the uses of water while the school readiness children picked the items the teacher told them to. Each child also gifted their Dada/Dadis and Thatha/Pattis with sweet handmade cards.
Hats off to the Grandparents to provide their support, patience and dedication. Here are the smiles of the Grandparents on the Happy Grandparents day.