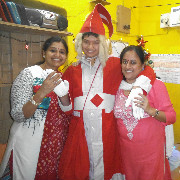 Have all of you heard of Rudolph, the red nosed reindeer? Have you heard his story? Have you heard how he helped Santa Claus give gifts to all the wonderful children in the world?
Well, this Christmas the children of Ekadaksha performed the story of "RUDOLPH, THE RED NOSED REINDEER". Each child was given a role. We had the best Santa claus, the sweetest Rudolph, cute little elves and fun loving reindeers. And what a wonderful performance. Click here to see the story of Rudolph in pictures.
All our children got gifts from Santa. When snacks was served - Homemade cake and chips - the children gobbled it all:-) We listened to Christmas songs and closed the day with A VERY MERRY AND HAPPY CHRISTMAS!!! Click here to view the christmas decorations and more fun.
The children who attend remedial classes listened to the story of "RUDOLPH THE RED NOSED REINDEER". They then played games. The younger children played a building blocks race and a christmas tree colouring race. The game for the older ones was a Christmas relay of 2 activities - Building a house, Making and decorating a Christmas tree. Click here to see them in action.