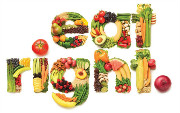 Nutrition is one of the most important factors contributing to the growth of a child. Healthy habits must be acquired at birth and remain till the end.
Ekadaksha Learning Center along with Dr.Varsha (MSc., PhD., RD., CNIS., Consultant-Clinical Nutritionist, Founder chair-Indian Institute of Nutritional Sciences) conducted sessions with parents in order to set the food patterns and habits of the children. Reviews are being conducted on a regular basis.
Click here to know what our Nutritionist, Dr. Varsha has to say.
So

eat right, be healthy!!!