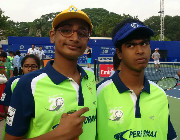 Aircel Chennai open 2016 - Two children from our Center who learn Tennis participated in an event conducted during the biggest Tennis tournament in Chennai.
They were made to activities along with all other children who attended. There was a running drill and they also got to hit a few balls with good Tennis players. There was also question-answer sessions with Somdev Devvarman and his coach.
In the end, Anand Amritraj distributed participation certificates which the children proudly received. To see our tennis players, click here.