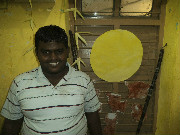 It was indeed very festive at Ekadaksha Learning Center during the Pongal celebrations. This harvest festival, the children helped to set up a pongal scene consisting of the sun, sugarcane, bulls and a pot of sweet pongal. There were two competitions - A kolam competition and a photo competition.
The Kolam competition:
Every child was given an outline to make their kolam designs. They chose a kolam stencil and spread kolam powder over it to make beautiful designs. Some children did the competition independently and some needed help. The three best designs were given prizes. The first prize was given to Kamalesh, the second to Tharun and the third to Kush.
The photo competition:
The children were dressed up in festive wear. They posed near the pongal set up and photos were taken. The three best photos were given prizes. The first prize was given to Sumetha, the second to Sairam and the third to vishal.
After the competitions it was time for a game of 'pandi(hopscotch)'. Of course, the game was slightly modified for every one to participate. The children thoroughly enjoyed jumping into boxes and transferring bean bags without too many rules:-).
To see the beautiful kolam designs and the lovely bright faces of the children, click here.