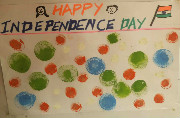 Ekadaksha Learning Center was decorated with the colours of the Indian flag for Independence day. Children created artwork based on India's independence which was displayed for all to see. All children were dressed in orange, white, green or blue.
The day began with and introduction to the Indian flag. The flag was held by all the children and then hoisted. After the National anthem, the children learnt a little about India. This was followed by an Indian game - Kho kho, which was modified to the children's abilities. The children then enjoyed listening to patriotic songs of India.
Vande Mataram. Jai hind. Click here for our Independence day celebrations.