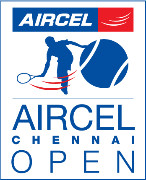 The Aircel Chennai Open Tennis Tournament, organised by the IMG Reliance and Tamilnadu Tennis Association(TNTA) takes place at the SDAT Tennis Stadium, Chennai in the first week of January every year. It is an ATP 250 point International Tournament in which players from all over the world participate. Players like Boris becker, Carlos moya, Rafael Nadal, Stanislas Wawrinka and Indians like Leander paes, Mahesh Bhupathi, Somdev Devvarman and Ramkumar have drawn crowds to this event, one of the rare annual international sporting events in India.
This year, children from Ekadaksha Learning Center visited the Stadium during the event and got to see the various facilities. They walked around the stadium and observed the courts, saw the office of the Tamilnadu Tennis Association, the various rooms and met the people who are part of the organising team. They got to see the 2014 and 2015 singles winner, Stanislas Wawrinka practice on the centre court. They posed for photographs with players Purav Raja (India) and Shamasdin (Canada). The children were delighted to receive signed tennis balls from the players.
Photos of the Chennai open 2015 visit.

Apart from that, a kids clinic was conducted by the organisers. One of our children, who is learning tennis attended the clinic. He blended with the crowd and hit some tennis balls with a few of the players. He also got an autograph from Mr.Vijay Amritraj and Ramkumar.