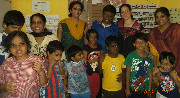 A creative art workshop was conducted at Ekadaksha Learning Center in the first week of December. The facilitator was Mrs.Hemalatha Swaminathan, a creative arts therapist.
The children did various activities. The activities involved ball games, animal games, singing and many more. The children made different actions using their hands and this was transferred to a drawing on paper. The session went in flow with the interests and temperament of the group. Click here for photos of the workshop.
A LITTLE BIT ABOUT CREATIVE ART THERAPY
"Creative art"is the use of various forms of art like movement, drama and craft, for the holistic development of a child.It is a very creative and rewarding experience that aids the child to make its journey of self awareness,
-Understand themselves better
-Increase their range of movement
-Build focus and concentration
-Communicate emotions
-Increase their confidence in the society
-Engage in creative skills
-Recognise and manage extreme emotions like anxiety, anger, depression etc.