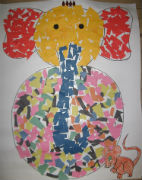 Ganesh Chathurthi is the birthday of Lord Ganesha. A mosaic of the Lord was made by the children of the Experience group (The pre vocational and life skill group). We decorated this with flowers and did puja for Lord Ganesha. The children helped to make round laddoos which is Lord Ganesha's favourite food. Bhajans were sung and the children danced to the tunes of Ganesha songs. 
After 3 days, a small clay idol of Ganesha was immersed in the water (A process called Ganesh visarjan). The children enjoyed playing a game called 'the mouse race'. 
Photos of Ganesh Chathurthi celebrations - Picasa album:Ganesha's birthday 2013.