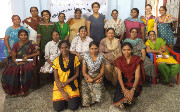 Ekadaksha Learning Center conducted its first Parent Workshop in February. The workshop was an introduction to Creative art therapy and was facilitated by Mrs. Hemalatha Swaminathan who is a Certified Creative Arts Therapist and has been a part of Ekadaksha's previous workshop too. 
 The aim of this parent workshop was to create awareness among parents about the existence and the positive aspects of the Creative Arts, not only for their children, but for themselves too. The workshop was attended by both parents and professionals in the field. Everyone gained certain insights about the topic as well as about their own self. 
 The workshop began with an introduction of names through movement, and was followed by a small brief given by Mrs. Hemalatha. The parents were then taken into a world of autism where they were asked not to label things in the room and also let their eyes look around freely. They were then asked to reproduce what they 'saw' by painting with different colours which they shared with the group. After this there was question-answer and discussion session which could have gone on and on, if not for the fact that time was up.
Check out parents and professionals in action at Creative art therapy (An introduction).