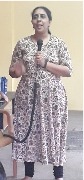 Ekadaksha conducted a workshop for the parents who send their children for remedial classes. The speaker, Mrs. Ganga is a parent and volunteer at Ekadaksha.She has been a part of Ekadaksha for more than 5 years. Her son attended remedial classes for about 2 years and now he is doing well at his school, a small school which has given him a big life. Ms. Ganga shared her journey with the parents who all struggle with the same issues faced in regular/inclusive schools. Her family's story is indeed one of motivation, understanding and courage. She realised early on and urged parents to understand that marks are not everything, the quality of life is what is important. Friends, family, playing, being creative, having fun, being naughty and messy as well as learning responsibility - these are what shape a child.
In her presentation, Ganga spoke about her son, his issues and difficulties. She then told parents what she went through - alone by herself as well as with her husband and son. She spoke about their realisations and choices they made. She explained how these choices affected them - where they were positive and where they were negative. In this process, she urged parents to understand the needs of their children rather than think about the society or themselves. She mentioned when the child is relaxed and happy, that is when the parents themselves can be relaxed and happy.
In order to understand the above message, here is a gist of her story. Ms. Ganga and her husband are both extremely well versed people in education. Both were high rankers and scored well. Studies was never an issue. However, when her son was born and then had to go to school, things were different, somthing she could not comprehend - Her son was smart but could not score the required marks. As a school would say, he was not performing up to the mark in order to go to higher levels. They struggled with the school system, peers and getting the right path for their son. Then their son started attending remedial classes at Ekadaksha. Here, he his confidence was boosted and the parents were also open to understanding more about him. He then started attending classes at Diksa Centre to develop various other skills as well. School was still a struggle and that's when Ganga and her husband made the biggest decision to remove their son from this big reputed school to a small government aided school. And well, wasn't this the best decision ever. Yes, they were scared and worried but it turned out to be a whole new life for them - A life they were happy in. The school gave much of the support needed and motivated their child to do his best. There are still ups and downs, lots more to be learnt but at the end of the day it is relaxed.
This wonderful journey is indeed something all parents should hear. It is a story which will enable parents to understand that they have to empower themselves and understand their child. Life is not a straight line, it has infinite curves. Take these curves as opportunities and live life to the fullest.