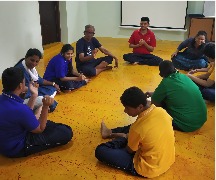 Conducting workshops for children is a challenge. It has to be interesting, involving, fun, learning and provide insight to caregivers. This workshop 'Rehearsing for life' by Mr.Parasuram Ramamoorthy, founder of Velvi Trust, was a blend of all these aspects and more. Parasuram sir who prefers to be called Ram, is a calm and thoughtful person. A person of few words but a million lessons, Ram helped us see a things with a different perspective and we thank him for this new learning.
The event began with an inauguration with the Rotary club of T.Nagar who have supported us and made this workshop a success. The chief guest was Ms. Anuradha Mahesh, who runs an initiative, Product Hub. A wonderful person, who is a chartered accountant by profession and social worker by choice, shared her story with us. She is indeed an inspiration in this world of Special education and training. It is very exciting when we meet someone who share the same thoughts and ideas as Ekadaksha. We were glad to have her amongst us for this workshop. The highlight was when Ms. Anuradha said she knew only numbers and nothing else, Mr. Parasuram told her that for her they may just be numbers, but for a child with autism, these numbers could be a Rainbow. And with that, our learning for the day began.
This workshop was conducted for the Experience (Prevocational) group since they are now turning into young adults. They are now slowly going to move on to see life on the outside. Ram began with simple games like trying to escape from within a circle followed by making vocal sounds like Aaa, Oooo etc. After a small break, the children made body sculptures with the help of a narration improvised based on the children's interest and ability.
Topakaranam is a very good exercise for the brain. It involves crossing over the hands to hold the opposite ear while squating fully. This is repeated a number of times. Each child tried to do the exercise and succeeded. Activities to promote lateral thinking and creativity were also a part of the workshop. It was interesting to note that a simple activities of looking out of the window or getting three drops of water in your hand could actually help to develop focus and creativity.
This workshop was indeed an eye opener and great fun for the children too. To understand and know more about the workshop 'Rehearsing for life' click here.